Prepare for brand new program requirements including pharmacy measures, opioid programs, and FHIR APIs.
https://www.cms.gov/newsroom/fact-sheets/contract-year-2021-and-2022-medicare-advantage-and-part-d-proposed-rule-cms-4190-p-1
Earlier this year, CMS released a Notice for Proposed Rule Making (NPRM) for Medicare Advantage and Part D. For those of us who don't eat, sleep, and breathe federal regs, this means plans that offer coverage to Medicare beneficiaries will have new requirements to implement soon. Soon…as in January.
CMS typically releases a Call Letter in April, but stated this year, there will be no Call Letter, just new regs. They are, however, allowing plans to provide comments on the Proposed Rule prior to final approval.
Many of the requirements impact Medication Therapy Management (MTM) programs. In this article, I'll highlight some of the major provisions related to MTM, and opportunities for both plans and pharmacies to capitalize on changes.
Pharmacy Performance Measures
For the first time, CMS is requiring every plan to publish the series of metrics they use to measure the performance of pharmacies in their network. Similar to how CMS uses STAR Measures to evaluate plan performance and electronic Clinical Quality Measures (eCQMs) to measure hospital & provider performance, health plans — or their contracted pharmacy benefit manager (PBM) — uses a suite of measures to evaluate pharmacy performance.
However (and it's a big however), these measures are not public to the pharmacies that are being evaluated. This is a problem for a couple reasons:
Pharmacies have no idea how they are measured
Pharmacies have no idea how they are performing
Pharmacies have no idea how to improve performance
This is the equivalent of flying blind. What's more, pharmacies have to pay plans back for poor performance (on metrics they are not privy to) in the tens-of-thousands of dollars per year. Flying blind and heading right towards the side of a mountain. These "clawbacks" assessed by PBMs, also called DIR Fees, have grown to upwards of $9,000,000,0000 per year.
PBMs are leveraging DIR Fees to recover margins after financial penalties are invoked from missing the mark on performance measures. But…what if there were another way?
Value-Based Pharmacy Models
What if pharmacies were aware of the measures they are graded on, could track their performance, see how they compared to their peers, and were held accountable based on an bonus/penalty model…similar to the incentive program CMS uses for STAR Ratings and eCQMs? This type of model aligns all stakeholder incentives.
Pharmacists become incentivized to improve measures directly tied to revenue through the Quality Bonus Payments (QBP) resulting in better outcomes for members at a lower cost.
Novel idea? It's not novel at all. Innovative health plans across all sectors — Medicare, Medicaid, and commercial — have piloted Value Based Pharmacy models with impressive results leading to either continuing or expanding demonstration projects.
Anecdotal reports from plans demonstrate significant savings on the medical benefit, validating the vast amount of research showing pharmacists' impact on outcomes and total cost of care. That lines up with the CMS Innovation Center reports of positive results just two years into the Enhanced MTM Model, exceeding the 2% total cost of care savings goal set when the program was launched.
*Opportunity: *Plans should leverage Pharmacy Performance Measure reporting requirements to pilot Value-Based Pharmacy models, targeting measures that align with their organizational goals.
Encounter Data Reporting
Another provision in the NPRM is the transition to using encounter reporting for risk adjustment.
Encounter data opens the door to several opportunities. For one, plans have a lot of trouble obtaining, cleaning, organizing, and actually using clinical data. Currently, there is no standard way for Medicare Advantage and Part D plans to receive clinical encounter data from providers. Services are provided and billed through fee-for-service claims, driving cost up without the ability to measure quality across a network of providers, outside of chart audits.
Chart audits are cumbersome, labor intensive, and expensive for health plans. Audits often take several months to conduct and results come back far too late for plans to pull any levers that impact their performance on measures.
Real-Time Reporting
However, clinical encounter data is captured in EHRs and other clinical platforms used by providers. This data is, in theory, readily available for audit and reporting with the right technology.
Encounter data reporting via SNOMED CT is already a requirement as part of the Enhanced MTM Model and being leveraged by plan participants. With increased use of encounter data for risk adjustment and inclusion in EMTM Model requirements, plans should leverage this emerging data stream in additional ways.
*Opportunity: *Plans should leverage encounter data reporting for: (1) better, faster clinical data reporting (2) hybrid claims + clinical performance metrics (3) better, faster, cost-effective chart auditing
Opioid Management
CMS is also working to to tackle the opioid crisis through Part D & Advantage plans. Now, all Medicare beneficiaries prescribed opioids will qualify for MTM services. Service requirements include educating beneficiaries on opioid risks, alternate pain treatments, and safe disposal of opioids.
In order to measure the performance of opioid programs, the Pharmacy Quality Alliance (PQA) has designed a new Opioid Core Measure Set that includes the following set to be included as display measures in PY2021:
Concurrent Use of Opioids and Benzodiazepines (COB)
Use of Opioids at High Dosage in Persons Without Cancer (OHD)
Use of Opioids from Multiple Providers in Persons Without Cancer (OMP)
Use of Opioids at High Dosage & from Multiple Providers in Persons Without Cancer (OHDMP)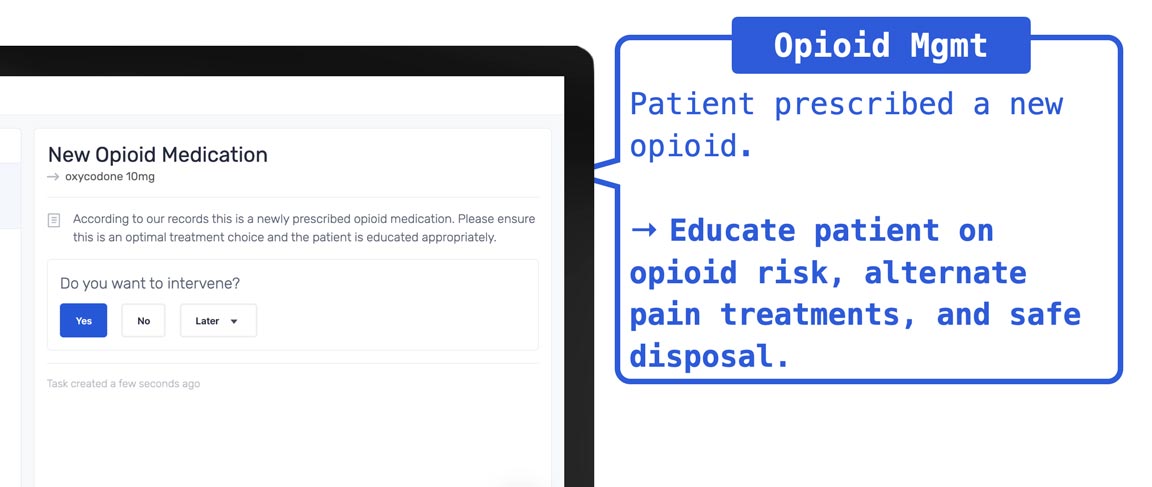 Models for Opioid Program Design
There are also several ongoing grant-funded demonstration projects studying best practices for managing opioid therapy. The ONE Rx Program out of North Dakota ensures patients receiving opioid prescriptions are provided personalized education. Pharmacists in the program receive tools to screen for risk of opioid use disorder and provide resources to safely use prescribed opioids.
Since the program launched in October 2018, more than 4,000 patients have been screened at more than 70 pharmacies. Pharmacists have been highly engaged in this program to curb accidental overdoses and adverse events.
*Opportunity: *Plans should design programs that include opioid-specific pharmacy measures to monitor adoption and performance of the new MTM eligible population.
*Opportunity: *Plans should look at ongoing opioid management demonstration projects for guidance in designing a successful program.
MTM on FHIR
CMS also hinted on their interest in making the MTM Standardized Format and Comprehensive Medication Review (CMR) assessable via FHIR API. This coincides with the ONC demonstration grant to make the Pharmacist eCare Plan interoperable. The MTM Takeaway Document and Pharmacist eCare Plan are closely aligned based on required data elements and clinical use cases.
This is also an exciting signal that parallels interoperability and information blocking rules issued by CMS and ONC requiring all payers to make member claims available via FHIR API. It's great to see CMS aligning data standards across all distinct areas of the Medicare program for plans and providers alike.
*Opportunity: *Plans should applaud CMS interest in FHIR for MTM Standardized Format and look for ways to align MTM on FHIR with other organizational initiatives to expose a FHIR API for interoperability.
Best regards,
Samm Anderegg, Pharm.D., MS CEO | DocStation
About DocStation
DocStation gets pharmacies paid for services. Pharmacies use DocStation to provide care, auto-bill medical claims, and participate in value-based programs with innovative health plans.
Get started today and discover how easy it is to get paid for the services you provide every day when you partner with DocStation.