Provide care.
Get paid.
Live free.
DocStation's all-in-one clinical platform helps pharmacies bypass PBMs to connect directly with health plans and get paid for services they provide every day.
With DocStation, your pharmacy is...
Efficient &
Streamlined
Spend less time bouncing between different pieces of software. Manage your entire clinical practice on one, easy-to-use platform.
Empowered &
Confident
Access to the most comprehensive, up-to-date patient profiles available so you can stay focused on what your patients need.
Improving Patient
Outcomes
Address patient-specific clinical opportunities to close care gaps and improve outcomes across your entire patient population.
Focused on What
Matters Most
DocStation aligns incentives between pharmacies and payers to improve outcomes through better care delivery.
DocStation empowers pharmacists to create and maintain meaningful patient relationships, intervene intelligently, improve outcomes, and get paid.
How it Works
DocStation is more than a software platform. It's your trusted partner for maximizing clinical revenue opportunities. Our technology and team work together to get you paid (well) for services you provide every day.
How Docstation helps
All the capabilities of our platform:
Health Records
Care for the whole patient using our comprehensive EHR built specifically for pharmacies.
Medical Billing
Bill for clinical services with ease. DocStation is medical billing, simplified.
Revenue Cycle
Maximize clinical revenue in partnership with our industry-leading support team.
Scheduling
Run an appointment-based clinic with built-in scheduling and reminders.
Messaging
Communicate with patients in real-time using our HIPAA-compliant two way messaging. 
Assessments
Utilize our library of clinical assessments or craft your own with our assessment builder.
Reporting
Access your data to monitor and optimize clinical, business, and revenue operations.
Clinical Programs
Easily participate in clinical programs with local, regional, and national health plans.
Integrations
Connect multiple data sources to maintain up-to-date patient health records.
Security
Use our HIPPA-compliant technology stack to keep your patient data safe and secure.
Check out these DocStats
Don't just take our word for it. We have the numbers to prove it.
1,300+
Pharmacies Nationwide
80%
Engagement in First Year
Case Study
Pharmacy earns $70,000 in First Year with DocStation
Get Paid for Services
DocStation's built-in medical billing capabilities makes it easy to identify billable opportunities, submit claims, and get paid. From claim creation to reimbursement, our streamlined billing process gives you immediate access to untapped revenue streams. Our world-class billing & support teams guide claims through the billing lifecycle, with over 85% of claims accepted upon first submission and payment adjudicated within 14 days.
Our Support is the Best in the Game
DocStation promises a personalized user experience the moment you say "Let's go!" You'll be backed by an experienced team of Provider Success Managers, Revenue Cycle Managers, and Program Managers. We'll do the heavy lifting and build a personalized onboarding plan for you and your team. With an average response time of 5 minutes or less, we're proud to be one of the most attentive support teams in the industry.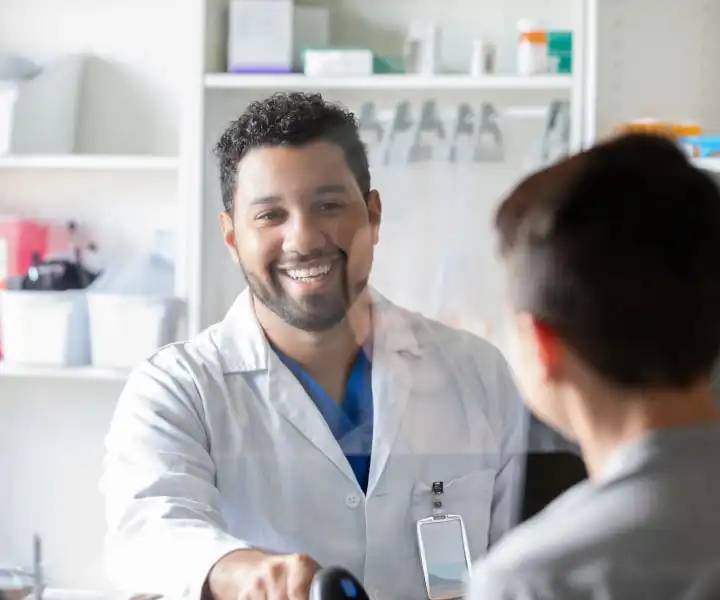 Ready to get started?
We're happy to answer all your questions and show you the magic that is possible with DocStation.
Read More
ACTIVATE YOUR PROVIDER STATUS
Pharmacy Management Software
by DocStation
Our pharmacy care management software will help you maintain the best patient relationships, improve outcomes, and get paid.
VALUE-BASED PHARMACY
Run your own clinical programs
Put your clinical knowledge and expertise to work by designing and operating your own clinical programs that get reimbursed by insurance carriers. DocStation's pharmacy management software can import patient data (Raw claims data? No problem!), track metrics, and provide reports. We track success, you do the rest: care for your patients.
CENTRALIZED PHARMACY DATA
See what else is happening with your patients' health
DocStation is a single solution for pharmacist interventions and access to their patients' health data. Track comprehensive profiles that include medication adherence, conditions, labs, vitals and more. Create complete eCare plans, medical billing claims and more from full patient health records and share them with other providers.
CLINICAL INTELLIGENCE
Save time identifying eligible patients
By harnessing DocStation's powerful clinical intelligence software, you can operate clinical programs across single or multiple pharmacy locations in your community. Assign tasks among team members and let DocStation's predictive task management tools drive preventative care, improved adherence, and better outcomes.
BILLING & REVENUE
Maximize your clinical billing
We're pharmacists, so we know the sitch. You just filled out a CMS-1500 for the 6th time today and received an email that one you submitted weeks ago had an incorrect ICD-10 code. We'll streamline that workflow— our dedicated support team is your partner in crime, making sure you never have to resubmit documentation more than once.
TECHNOLOGY & CONNECTIVITY
Treat the whole patient
Maintaining a single source of truth for pharmacy patient data can be complicated. DocStation is designed to be a simple connectivity tool for health plans, pharmacies and third party partner platforms. Because of DocStation security standards, you'll never have to worry about the integrity, security, or portability of your data.
What Makes Our Pharmacy Management Software Stand Out
At DocStation, we know that as a pharmacist in the healthcare industry, you're on the frontlines helping patients live healthier lives. That's why we designed our platform to give you a venue to offer value-based care.
Through our powerful and robust pharmacy management software, you can streamline your workflow to treat patients, collaborate with other medical experts, and run your business more efficiently.
Regarding your patients, DocStation's prescription management system keeps track of everything related to their care, including their complete medical history, prescriptions, side effects, vaccines, lab results, vitals, and more.
It helps to have a unified approach when partnering with other health care professionals. After all, to properly treat a patient, you must thoroughly understand their condition. To simplify your job, we simplified exchanging data with other service providers through bi-directional integrations and standardized formatting.
You no longer have to sift through disorganized and decentralized programs for your business. With DocStation's cloud-based pharmacy management systems, you can leverage task management, claims submissions scheduling, and predictive clinical tools to achieve better outcomes.
Why DocStation?
From performing clinical assessments, testing, administration of injectables, and more, we know that pharmacies are the primary point of contact for people in your community seeking healthcare. We want to be your technology partner to activate your provider status and ensure your business offers patients the care they need using the best pharmacy software. We do this in the hope of making healthcare more affordable, accessible, and high-quality for everyone.
Pharmacy Management Software FAQ
What are the benefits of using a dedicated pharmacy system software?
DocStation's all-in-one solution combines your pharmacy systems into one, easy-to-use platform. From billing support to prescription management, software built specifically for pharmacies can help your business and your patients thrive. Pharmacists benefit from an integrated pharmacy database management system because they direct workflow activities across numerous systems and guide pharmacists to the tasks and documentation steps needed for billing and charting on the patient's record.
How can pharmacy management software help with billing?
The built-in billing tools of our pharmacy operating systems can help your pharmacy generate more income. Submit claims to the medical benefit using our pharmacy billing software. You've already recorded the care, so submitting it is a cinch.
With DocStation, you no longer have to follow up on claim status! We'll let you know if there is an issue with your claims and the steps required for approval. If something goes wrong, we'll either be able to fix it for you or alert you to the change required.
Become a DocStation Pharmacy
Step into the future of value-based pharmacy and focus on patients, not pills.