For Pharmacies
Finally, a practice management software that puts pharmacists and patients first. DocStation reminds providers why they got into this business – to make a difference one patient at a time.
Transparent pricing. No hidden fees or surprises, ever.
Get the tools your pharmacy needs to succeed. Flexible features, lightning fast customer service, and an experience tailored to you.
Essentials
$49
/month
Per location + 15% of paid claims
Basic software features
Payer program participation
24/7 help center articles
Live customer support
Premium
$149
/month
Per location + 10% of paid claims
Advanced software features
Patient scheduling and messaging
24/7 help center articles
Live customer support
1-on-1 software & PoC training
Custom claim templates
Concierge claims management
Standard integrations
Enterprise
Custom Pricing
Everything in Premium, plus:
Enhanced security features
User productivity reports
Custom clinical workflows
Custom integrations
Dedicated account manager
Subscription Packages
See what makes each DocStation subscription unique.
Features
Essentials
Premium
Enterprise
Unlimited patient records
Medicare document generation
Custom note templates
Patient self-scheduling
Secure patient messaging
Provider productivity analysis
Features
Essentials
Premium
Enterprise
Revenue Cycle Management
Workflow Automation
Features
Essentials
Premium
Enterprise
Live provider onboarding and training
24/7 help center articles
Payer audit support
Dedicated account manager
Features
Essentials
Premium
Enterprise
Immunization registry
Custom
Pharmacy operating system
Standard
Custom
Pharmacy Dispensing System
What is a DocStation subscription?
DocStation offers 3 tiers of subscriptions:
Essentials Plan
Premium Plan **Recommended**
Enterprise Custom Plan
How much does DocStation cost?
The cost of our service can vary depending on the subscription plan you choose, number of locations, and the number of paid claims! See the above pricing chart. Our Enterprise pricing is custom made to fit your enterprise needs. Notice the claim percentage is from paid claims only. We consider ourselves your partner, so we don't get paid until you do.
Are there set up fees?
Yes. DocStation charges an implementation fee to activate all integrations.
Can I change to a different subscription per my business needs?
Yes, you can always alter your plan as your needs change with the help of your Pharmacy Success team. support@docstation.co
What types of payment do you accept?
DocStation accepts debit, credit, and ACH payments. You can update the details of your payment in your account at any time.
Is there an option without percentage based claims?
Yes. The details can be discussed with your Account Executive before signing.
Partners & Friends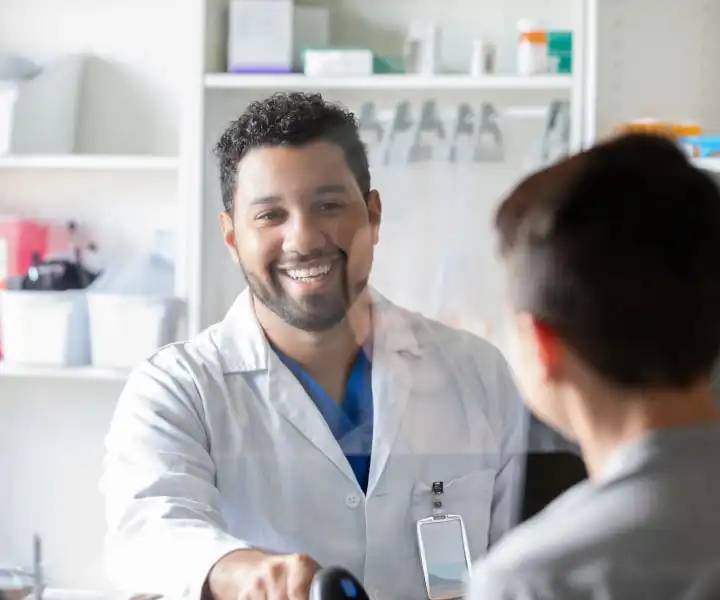 Ready to get started?
We're happy to answer all your questions and show you the magic that is possible with DocStation.
Your pharmacy, your way